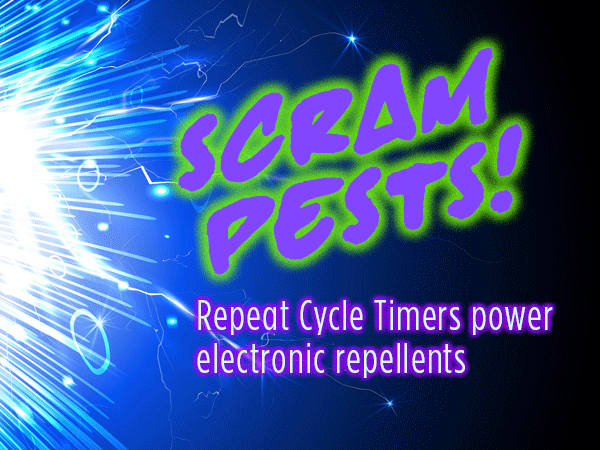 Pest repellents use sound, spray, scent…and Repeat Cycle timers
Expanding and unwelcome populations of nuisance animals annoy residents, endanger drivers, and destroy property worldwide.
Repeat cycle timers, combined with both new and proven repellent technologies, are used in installations developed for particular situations or specific populations.
Innovative manufacturers are seeking to meet the demands of farmers, building managers, groundskeepers, municipal planners, parks directors and highway departments to send pests packing. As insects, rodents, birds, even fish invade new areas, opportunities abound to protect crops, residents, structures and landscaping.
Airotronics offers many Repeat Cycle Timers, (aka Recycle Timer, Recycling Timer, Flasher) which generate repeating on / off cycles to power repellent devices at appropriate intervals.
In addition to our 2" x 2" cube, you'll see miniature, round and plug-in housings. Choose from wide input voltages, fixed, adjustable and variable settings, dipswitch, pots or external timing adjustments, .5 to 30Amp output, and On-Off or Off-On.
Check out these three: Timer with Relay, Solid State Timer Microprocessor, AC/DC Wide Voltage Flasher
Peltec also offers Repeat Cycle timers in convenient DIN rail mounting case.
Here's an example: Dual Time Adjust with ranges .1 second to 100 days.
Airotronics and Peltec are two divisions of Pelco Component Technologies, a trusted manufacturer and distributor of electrical and electronic components. Across the US and around the world, OEMs, engineers and product designers choose components from Pelco to control electricity and make things happen at the right time. We call it Putting Power to Work.
Sign up for PelcoPulse Email
Call 855 227 3526
Contact Pelco    Send us an email
Pelco Website   Pelco Blog