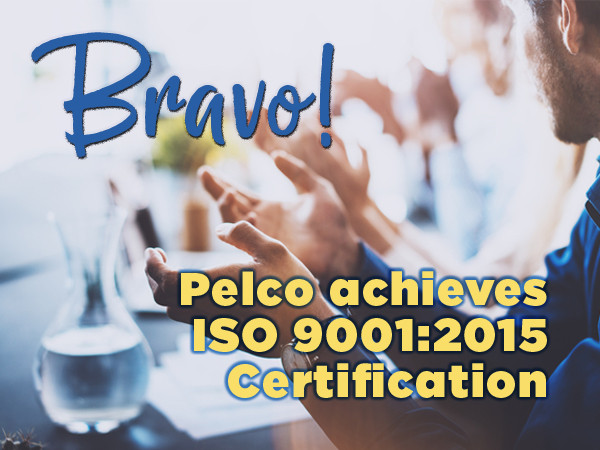 Pelco Component Technologies achieves ISO 9001:2015 Certification
Pelco Component Technologies is proud to announce ISO 9001:2015 Certification, issued on August 28, 2017.
Per Intertek review and certification, our management system conforms to the requirements of ISO 9001:2015, applicable to the design, manufacturing and sale of electronic components and provision of outsourced contract manufacturing.
According to ISO, the International Organization for Standardization "creates documents that provide requirements, specifications, guidelines or characteristics that can be used consistently to ensure that materials, products, processes and services are fit for their purpose."
See our Certificate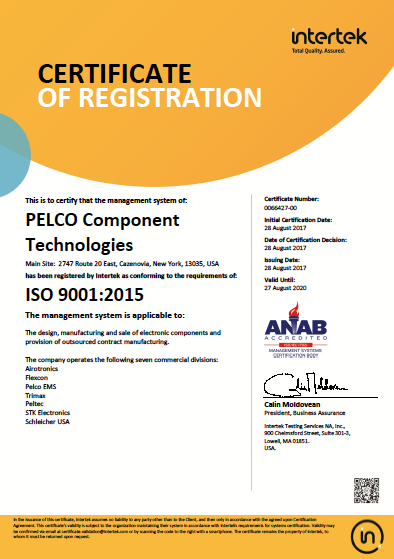 These real and measurable benefits translate to product consistency, quality, and customer satisfaction, as well as operational efficiency, environmental performance, and health and safety in the workplace.
About ISO 9001:2015
Management system standards
Yes, it's rigorous!
Preview ISO 9001:2015 Standards
Having met the ISO requirements, Pelco Component Technologies may now include the ISO 9001:2015 certification in our products and communications. We also look forward to adding the ISO banner to the flag collection at our breezy Cazenovia hilltop.
Pelco headquarters and manufacturing are located in Cazenovia, NY, from which the company operates seven commercial divisions: Airotronics Timers and Controls, Flexcon Flexible Test Connectors, PelcoEMS Contract Manufacturing, Trimax Circuit Protectors, Peltec Timers and Controls, STK Electronics Capacitors and SchleicherUSA Automation and Safety Solutions.


President Peter Kip, Jr is excited about this official step forward and acknowledges the efforts of all team members. Customers and clients are encouraged to request a plant visit, and continue to expect "all the best" from Pelco Component Technologies.
Reach us by phone at 855 227 3526.
Contact Pelco
Send email