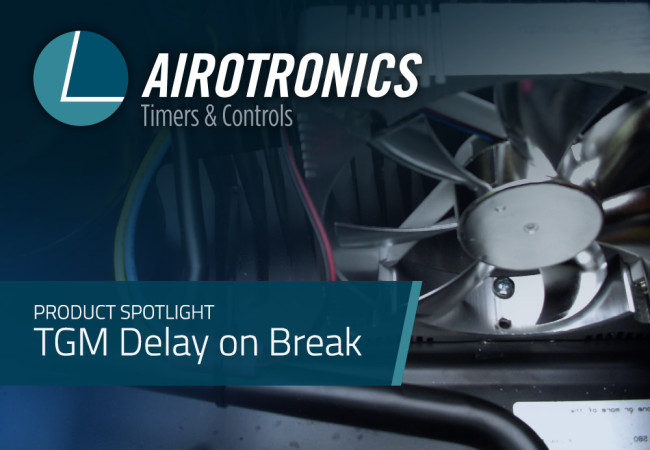 TGM Delay on Break for Fans
TGM series Cube Relay Delay on Break timers are a unique combination of digital CMOS timing circuitry with a relay output in a compact 2" x 2" configuration. These units provide the same functional performance as plug-in relay timers, but at significant cost savings. Key features: Normally Open (N.O.) isolated initiate switch; relay common is totally isolated.
Putting Power to Work with the TGM:
If you're using a fan to cool off a motor and would like the fan to stay on after the motor turns off, the Airotronics Delay on Break timer will work well for you. The power to the fan is on whenever the motor is running. Once the power to the motor is turned off, the initiate switch for the timer opens and the time delay is started causing the fan to continue to cool the engine for the additional set time period. At the end of the time delay, the load is de-energized and the load is ready for another cycle.
OFF DELAY, DELAY ON RELEASE, DELAY ON DE-ENERGIZATION:
• High current-carrying capacity up to 30 amps
• Transient protected
• 100% Load isolation
• No leakage in N.O. position
• No heat sinking required
• Available in any time delay period required
• Digital CMOS timing
• No minimum load required
Timing Mode: Input voltage is applied continuously. Upon closure of the normally open isolated external initiate switch, the load is energized, and remains energized as long as it is closed. When the external initiate switch opens, the time delay is started. At the end of the time delay, the load is de-energized, and the timer is ready for another cycle.
Click here to learn more about the Airontronics Delay on Break Timers
Click here for the TGM datasheet
The divisions of Pelco Component Technologies
Across the US and around the world, OEMs, engineers and product designers choose components from Pelco Component Technologies to control electricity and make things happen at the right time. We call it Putting Power to Work.
Sign up for PelcoPulse Email
Call 855-227-3526
Send us an email
Pelco Website