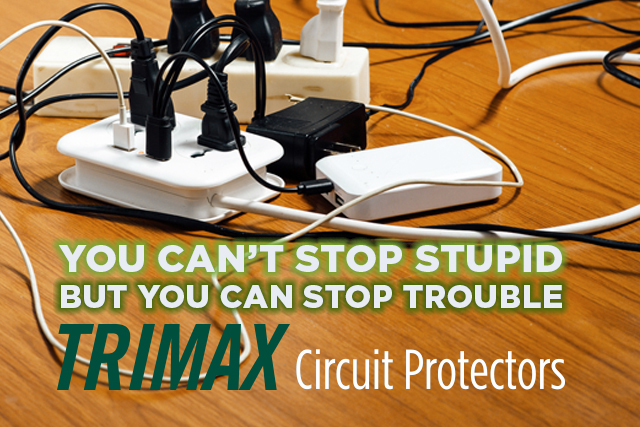 Snap action circuit protectors: Single pole, double pole and top-selling low-cost fuse holder replacement
Trimax UL Recognized supplemental protectors are intended for use within an appliance or other electrical equipment.
Features include:
1. Combines the control function and overload protection in a single device
2. Reduced installation and wiring time, less space required, smaller overall footprint, even reduces component inventories
3. With no fuse to replace, easily and quickly resettable when tripped due to overload
4. Ideal for power strips, office machines, appliances and many more
Versatile and sturdy, these manual-reset breakers install with small panel cutouts, offering trip-free protection for home appliances, office equipment, transformers and motors.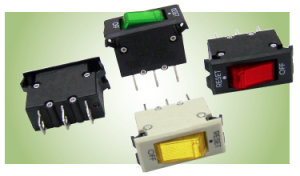 MX41 Manual Reset Circuit Protectors with Rocker Switch
Single pole Used with typical 120 circuit with single hot and one neutral, such as small appliances, office equipment and power strips.
Current and Voltage Ratings: 3A–20A, 125/250VAC, 12/24VDC
PDF datasheet

MX42 Twinned Pole Manual Reset Circuit Breakers with Rocker Switch
Double pole Used with a typical 220V circuit having two hot wires. If there is a short circuit to either, both trip together. Used with central air conditioners, electric dryers, electric ranges, electric water heaters.
Current and Voltage Ratings: 4A–20A, 125/250VAC 50/60Hz, 50VDC
DPST protectors are also required in equipment operated in countries where power outlets are not polarized and/or local standards mandate to break both power lines in case of a fault.
PDF datasheet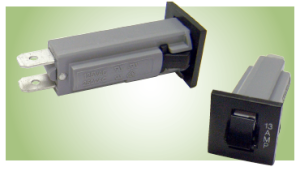 Top-seller MX15, for smallest panel opening and lower current.
Current and Voltage Ratings .25A–2.5A, 125/250VAC / 32VDC and 3A–20A, 125/250VAC / 50VDC. Also suitable for AV, HVAC, instrument panels, vending machines and more.
PDF datasheet
Trimax is a division of Pelco Component Technologies, a trusted manufacturer and distributor of electrical and electronic components.
Across the US and around the world, OEMs, engineers and product designers choose components from Pelco to control electricity and make things happen at the right time. We call it Putting Power to Work.
Call 855-227-3256
Contact Pelco    Send email
For more news browse our blog, the PelcoPulse