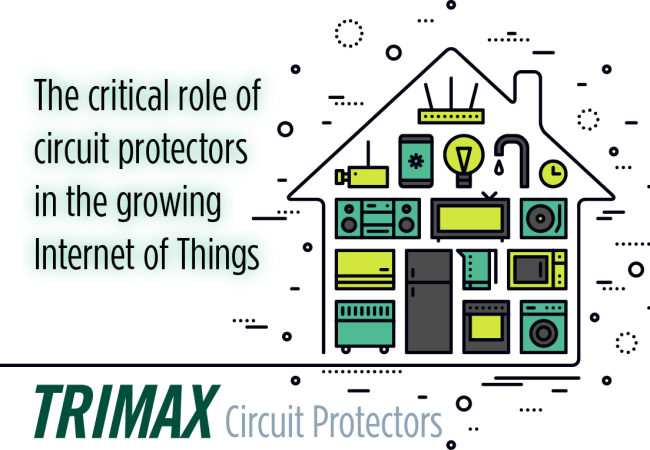 Traditional circuit protectors still crucial components for the Internet of Things
Whether IoT or IIoT, the biggest buzz in electronic design is an expanding universe: remote control via smart devices, system management via custom UIs, 24/7 connectivity, data capture and analysis in home, healthcare, manufacturing and transportation sectors. How do circuit protectors fit in?
In this world of exciting change and choices, engineers and OEMs have to consider everything from new SoCs and sensors to computing capacity and, of course, cost.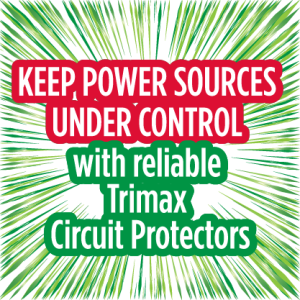 System failure is not an option in an interconnected universe. While some of the newest developments deliver minuscule guards against ESDs or specialized data-line protection, we know built-in, mounted and on-board circuit protection will continue to be critical safety components in everything from appliances and power strips, to manufacturing systems and industrial controls, to personal and commercial transportation.



Trimax is a primary OEM source of high-quality, competitively-priced circuit protection products, meeting the most stringent demands of sophisticated electrical and electronics applications. Major categories are Bi-Metallic and Expansion-type circuit protectors, including miniature components, various case styles, and automatic, modified and manual reset options.

HIGH AMPERAGE CIRCUIT BREAKERS FOR AUTOMOTIVE AFTERMARKET
See Transportation and Automotive Circuit Breakers

DURABLE LOW COST APPLIANCE CIRCUIT BREAKERS
See Circuit Breakers for Appliances and Power Strips

PROTECT AGAINST OVERLOAD CURRENT
See General Purpose Circuit Protection and Circuit Breakers
Contact Trimax  Visit Website  Download Trimax overview
Trimax is a division of Pelco Component Technologies, a trusted manufacturer and distributor of electrical and electronic components.
Across the US and around the world, OEMs, engineers and product designers choose components from Pelco to control electricity and make things happen at the right time. We call it Putting Power to Work.
Call 855-227-3256
Contact Pelco    Send email
For more news browse our Blog, the PelcoPulse