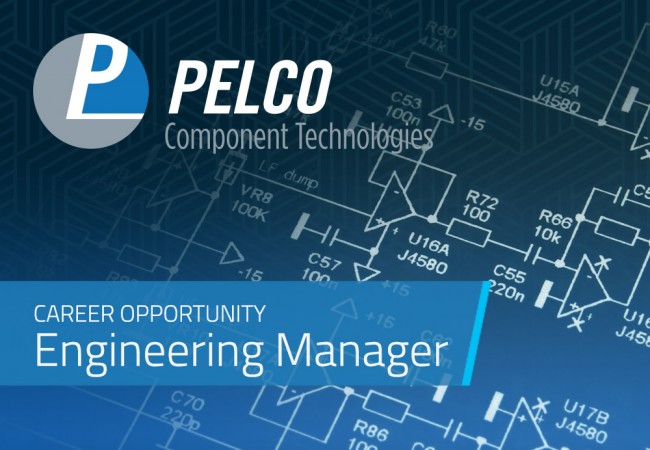 Join Our Team: Engineering Manager
We have an immediate opening for a Engineering Manager to join our team. The Engineering Manager will report directly to the Director of Engineering.
Pelco Component Technologies is Putting Power To Work with versatile and reliable timers and controls in transportation and industry, agriculture and appliances, manufacturing and services across North America and around the world.
Email your resume to HR@pelcocaz.com.
JOB TITLE:  Engineering Manager
JOB DESCRIPTION:  Manage product development and support through best practice of project management to achieve deliverables alignment with requested timelines. Actively participate in developing processes and procedures to achieve or exceed the company's revenue and profit margin goals through continuous improvement initiatives.
RESPONSIBILITIES INCLUDE (but are not limited to):
Plan and coordinate project schedules, timelines, priorities, deliverables and follow up on actual performance against estimates.
Work with Purchasing, Manufacturing and Finance to prepare cost and time estimate. Utilizes design methods that encourage product standardization to improve product quality and lower cost.
Coordinate collaboration between Project Development Team, Customer Service, Marketing and Sales to ensure deliverables, customer pricing and forecasts are clearly communicated to all stakeholders.
Ensure product development is compliant with the company's processes, policies and standards.
Generate specifications, schematics and prepare production documentation. Establish guidelines for production test procedures and test equipment. Provide post production customer support concerning technical aspects of the product (to include travel as required).
Demonstrate ability to interact with team members in a respectful and efficient manner to maximize effectiveness and time management.
Remain current in understanding new technologies and products that could be used for current and new business opportunities.
KNOWLEDGE & SKILLS:
Hands on circuit design to include schematic entry, prototyping building and testing. Experience with CAD schematic capture and board layout. Experience designing microcontroller-based circuits a plus.
Familiarity with DFM (Design for Manufacturing) and FMEA (Failure Mode and Effect Analysis) concepts.
Familiar with regulatory agencies (UL, CSA, VDE, CE…) governing product lines and implementation of industry standards.
Good time management skills and demonstrated ability to provide engineering support on multiple concurrent projects. Self-starter requiring minimal supervision, positive approach, self-motivated, creative with ability to take initiative.
CREDENTIALS /EXPERIENCE:
A four-year Electrical / Electronics Engineering degree with emphasis in analog and digital controls design.
A minimum of three years of experience with design, test and product development as part of a multidisciplinary team in Industrial Automation or related field.
The divisions of Pelco Component Technologies
Across the US and around the world, OEMs, engineers and product designers choose components from Pelco Component Technologies to control electricity and make things happen at the right time. We call it Putting Power to Work.
Sign up for Pelco Email
Call 800-321-9539
Send us an email
Pelco website