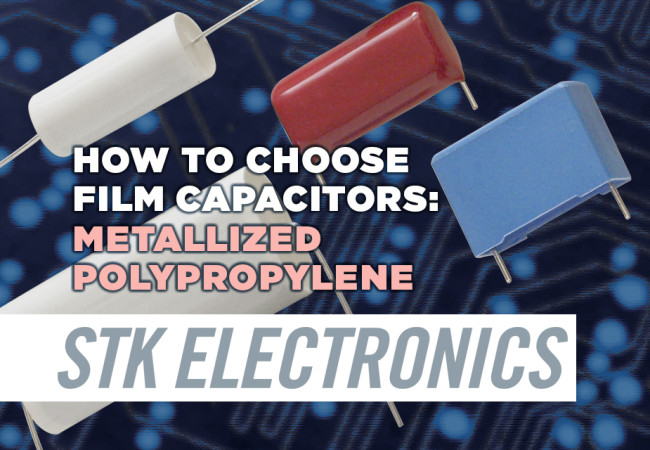 Spec'ing Metallized Polypropylene Film Capacitors from STK Electronics
Metallized polypropylene film capacitors smooth out voltage, filter out noise, and protect circuits and users, products and installations. They're everywhere! Home audio systems to video production facilities, power stations to pool filters, high-speed digital signal processing to hard drives. Check out thousands of film capacitors at STK Electronics, a division of Pelco Component Technologies.
See each Series web page for Features, Applications and Specs, including Dialectric, Electrodes, Leads, Temperature Range, Capacitance Range, Voltages and other key info. Graphs of Typical Parameters and Rated Voltage are included where relevant.
Select and Download pdfs by series and case type for case and lead dimensions, capacitance, tolerance, voltage, and how to spec your order.
Alternate case sizes and capacitance ranges are available.
Call for info today 855 227 3526
Send Email Request     Capacitor Order Form
Standard Case Types
View the Series specs by capacitor type and by application.
Visit

webpages

for overview and

click buttons

to download datasheets.
The MP85 Series and MP88 Series

 are general purpose filter capacitors used in many AC and DC applications to smooth the voltage in the circuit. Applications include high-speed digital modems, metal detection equipment and audio amplifiers.

MP85 Series Metallized Polypropylene
Radial Box Radial Epoxy Dipped Axial Oval Axial round

Also available in Axial Round Capsule as MP85S. Call for info and dimensions.

MP85 Rated Voltage pdf          MP85 Parameters.pdf

MP88 Rated Voltage pdf        MP88 Parameters pdf
MP90 Series capacitors

 are used in high voltage applications like power supplies that can see voltage spikes up to 3000 volts for milliseconds. The capacitor absorbs the voltage so there is no damage to the circuit.

MP90 Series Metallized Polypropylene Capicitors (Heavy Edge, High Current)
Radial Box Radial Epoxy Dipped Axial Oval Axial Round
MPX Series "across the line" capacitors

are used to protect both the circuit and the consumer from high voltage impulses. In addition to filtering out noise, in the event of a failed circuit the MPX class X2 capacitor prevents the AC voltage from escaping the circuit, either incoming or outgoing.

MPX Series Metallized Polypropylene Capacitors
(Interference Suppression, Class X2 Safety)
Radial Box

In a hurry? Call 855 227 3526 or email us for personal attention to your questions and requests.

STK Electronics is a division of Pelco Component Technologies. Across the US and around the world, OEMs, engineers and product designers choose components from Pelco to control electricity and make things happen at the right time. We call it Putting Power to Work.
Sign up for PelcoPulse Email
Visit Pelco site
Send email