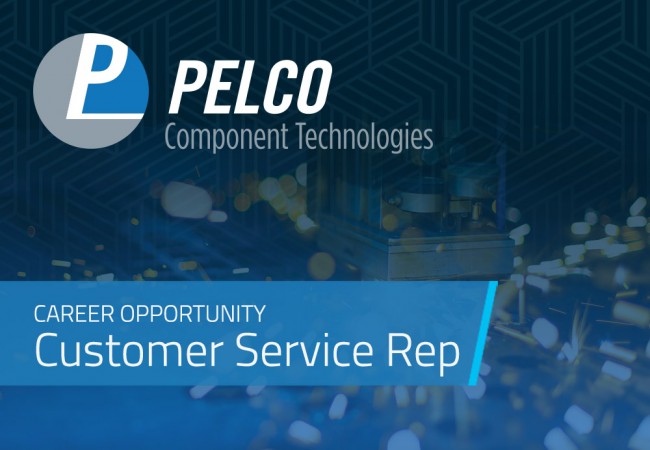 Join Our Team: Customer Service & Production Coordinator
We have an immediate opening for a Customer Service and Production Coordinator to join our team. The Customer Service and Production Coordinator will report directly to the Operations Manager.
Pelco Component Technologies is Putting Power To Work with versatile and reliable timers and controls in transportation and industry, agriculture and appliances, manufacturing and services across North America and around the world.
Email your resume to HR@pelcocaz.com.
JOB TITLE:  Customer Service and Production Coordinator
JOB DESCRIPTION:  Direct customer interface providing current and ongoing order status thereby ensuring a positive customer experience. Develop and maintain data for manufacturing and shipping schedules for all divisions. Act as primary post sales customer contact.
RESPONSIBILITIES INCLUDE (but are not limited to):
Receive, review and enter all new customer orders into MRP/CRM platform.
Obtain delivery dates and schedule new orders for all divisions.
Prepare order acknowledgement and delivery information for orders received.
Ensure that production schedules are accurate, current, and complete.
Prepare weekly production schedules and present at production meeting.
Direct customer interface to inform current order status, ensuring a positive customer experience.
Prepare work orders as required and issue to production.
Check work orders for accuracy comparing P.N. # and bills of material to order.
Process paperwork for accounting and production on all orders received.
KNOWLEDGE & SKILLS:
Be a highly motivated, self-starting and well-organized individual.
Excellent written and verbal skills for positive interactions with customer base.
Understanding of applicable computer technology and related software.
Have the ability to handle multiple tasks and have strong problem-solving skills.
Ability to interact with people in a team-oriented, respectful, and efficient manner, thereby maximizing effectiveness and time management.
CREDENTIALS /EXPERIENCE:
Associates degree with experience in business/office administration.
Familiarity with invoicing process and schedule maintenance.
Three years experience in a manufacturing environment.
The divisions of Pelco Component Technologies
Across the US and around the world, OEMs, engineers and product designers choose components from Pelco Component Technologies to control electricity and make things happen at the right time. We call it Putting Power to Work.
Sign up for Pelco Email
Call 800-321-9539
Send us an email
Pelco website