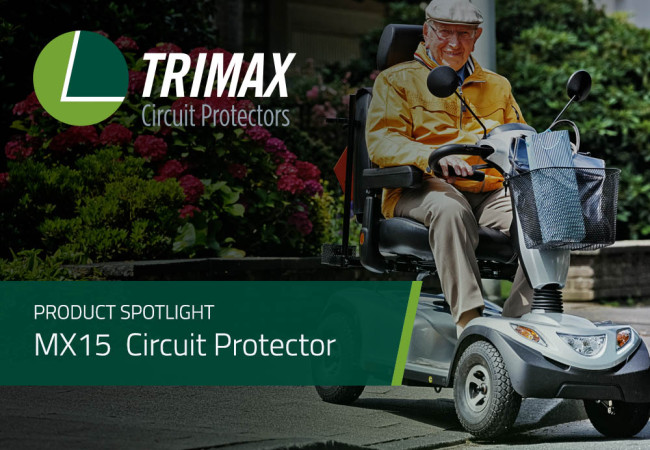 Product Spotlight: MX15 Series Manual Reset Circuit Protector
MX15 Series in battery operated scooters
 MX15 Series manual reset circuit protector is a unique, low-cost fuse holder replacement.
The MX15 offers a trip-free mechanism with "snap-action" circuit protection. The snap-in mounting feature fits a range of panel thicknesses from 1.0 to 3.0mm.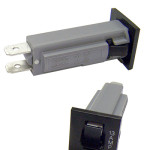 Putting Power to Work with the TGPL:
The MX15 from Trimax is used in battery operated scooters that you see in every shopping facility in the Country.  Whenever there is user interface with a battery-operated equipment UL requires the breakers to meet the UL 1077 Standard which states; Supplementary protectors as devices intended for use as overcurrent, over-voltage or under-voltage protection within an appliance or other electrical equipment where branch-circuit overvoltage protection is already provided or is not required.  In the event the battery has a major malfunction our MX15 will protect the motor from an overcurrent situation and more importantly the user.
MANUAL RESET CIRCUIT PROTECTOR:
3-20 amp circuit protection
Agency Approvals UL/CUL, CSA, VDE
Fuse Holder Replacement
Manual reset circuit breaker
EXAMPLES OF MX15 SERIES APPLICATIONS INCLUDE:
Audio Equipment
Fitness Equipment
Food Processing
Household Appliances
HVAC Equipment
Instrumentation
Vending Machines
…and many more.
Click here to learn more about Trimax Circuit Protectors 
Click here for the MX15 Series datasheet 
The divisions of Pelco Component Technologies
Across the US and around the world, OEMs, engineers and product designers choose components from Pelco Component Technologies to control electricity and make things happen at the right time. We call it Putting Power to Work.
Sign up for PelcoPulse Email
Call 855-227-3526
Send us an email
Pelco website