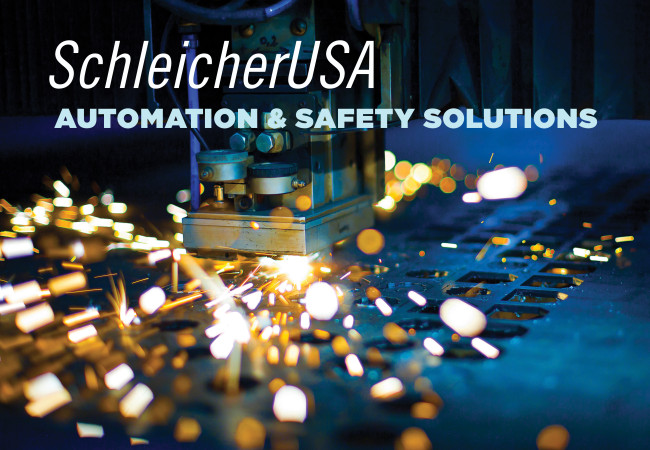 Safety relays, monitors, switches and automation controls
Schleicher stands for quality, innovation and eight decades of experience. It is renowned worldwide for high performance control systems, safety relays and timers, electronic engineering services (EES) and electronic manufacturing services (EMS). In 2015, SchleicherUSA was established to bring safety relays, monitors, switches and automation controls to the North American marketplace.

---
SchleicherUSA website

   

Contact Schleicher

   Call 800-321-9539
SchleicherUSA Relay Technology
Choose Schleicher safety, timing and measurement components for machinery and systems.  Get sophisticated solutions in convenient and compact DIN rail type housings.
Additional advantages:
Committed after-sales service
Active life-cycle management
Adjustments, expansions and alterations at any time
Guaranteed service life of more than 25 years
Safety Relays
To ensure maximum protection for operators and machines, safety relays must be easy to use and very reliable. High quality SchleicherUSA safety relays meet DIN ISO 13849 and DIN EN 61062 standards. In addition they fulfill the technical requirements for relay technology with positive driven contacts in accordance with EN 50205.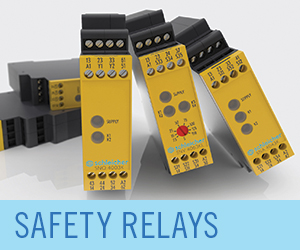 Applications include:
Emergency stop
Safety gate
Safety mats, strips, edges, bumpers
Light grids, inductive sensors
Controlled shutdown
Access delay
Type III C two-handed monitoring
Contact output extension
Timer Relays and Switching Devices
Timer relays and switching devices are intermediaries between the intelligent logic level of the computer or other control devices and the machines or systems doing the work. Relays and switches provide high-performance isolation between the low-voltage range of the intelligent logic, and the high power consumption of the machine operation.
SchleicherUSA supplies a wide range of timer and switching relays with various features and functions, ensuring precise component selection to meet the requirements of your application.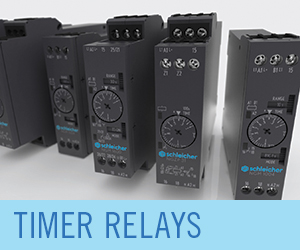 Features include:
Multifunction, Single function, Multi-range, Single-range and Fixed time
On-delay, Off-delay, On-delay and Off-delay, wiper controls
Relay functions include:
Impulse generator
Blinker relay
Relay for a star-delta/wye-delta switch
Pulse counter
Coupling relays
Latching relays
Measurement Relays and Monitoring Devices
Rapid-response measuring and monitoring devices continuously review and evaluate all electrical and physical states. These components facilitate quick and accurate response in the event of an error. Proactive switch-off of the affected part of the system prevents damage to other unit components.
SchleicherUSA offers measurement and monitoring relays for all potential configurations.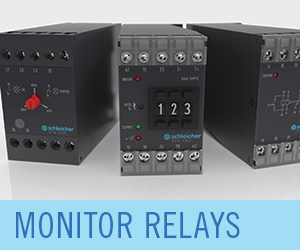 Current and voltage monitor functions:
Detection of low or excess voltages
Detection of low or excess currents
Phase Monitor functions:
Phase sequence and phase failure monitoring
Detection of incorrect phase sequence
Detection of dangerous phase voltage imbalance
Detection of voltage feedback
Safety and Protective Monitor functions:
Protection of people and machines
Immediate interruption of the energy supply
Monitoring of two-hand applications
Monitoring of safety guards
SchleicherUSA website    Contact Schleicher   Call 800-321-9539
SchleicherUSA Automation
Welcome to advanced open system machine automation! Schleicher provides powerful modular control systems for all requirements of modern machine manufacturing.
Open systems allow individual functions to be realized for high-performance machines, with faster and simpler connections between networks or various components. SchleicherUSA automation incorporates the latest CNC and PLC technologies and uses EtherCAT®, Sercos® and the newest Windows variants, among others.
Schleicher systems are maintenance-free, robust and flexible. Installations are tailored to individual customers and programmed for long life and simple operation.
Controls
Schleicher XCx automation systems and components provide a modular structure for application-adapted design. From an entry-level rack-based control system, expansion modules and racks, and additional controls can handle up to 128 modules on a maximum of 8 racks with full system extension over 4000 I/O points.
I/O Systems
With increases in plant complexity, peripheral connection via fieldbus has become standard in most automated infrastructures. The "RIO" I/O system from SchleicherUSA is equipped with comprehensive modules that pick up, route and output the necessary process-specific signal mix..
Human Machine Interface
The ProNumeric OP50 is an optimized HMI device employing the Sercos III and EtherCat realtime field bus systems, combined in a single hand-held control. At last a single unit connects to the controls of different manufacturers.
For more details see Whitepaper Simplified GUI and Precision Controls for Complex CNC Manufacturing
Software
SIM:ONE SIMULATION SOFTWARE Users can test and analyze CNC programs and machine movement sequences on their own PC with Sim:one software. Potential risks can be detected and eliminated at an early stage, and productivity of the machine can be maximized.
SCHLEICHER GRED Schleicher GRED is a compaction software for production or logistics systems that process large quantities of real-time data. GRED reduces the size of the retained data and therefore needs less physical memory capacity; NV-RAM, hard disk and RAM share storage and access while GRED runs in the background without impairing the application.
Read about Schleicher's automated CNC control system for MIKKROMAT
SchleicherUSA website    Contact Schleicher   Call 800-321-9539
A division of Pelco Component Technologies
Across the US and around the world, OEMs, engineers and product designers choose components from Pelco Component Technologies to control electricity and make things happen at the right time. We call it Putting Power to Work.
Sign up for PelcoPulse Email
Call 855-227-3526
Contact Pelco    Send us an email    Pelco Website   Pelco Blog