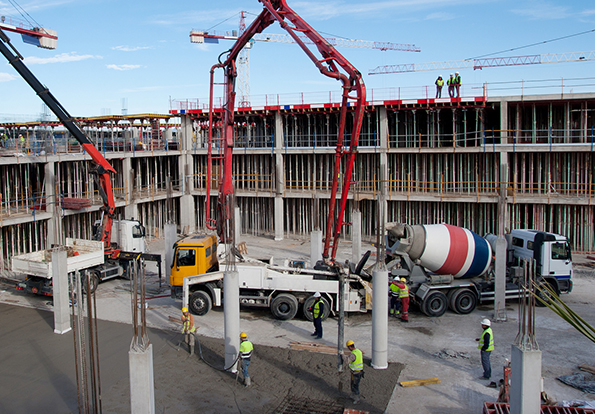 Programmable digital timer controls time-lapse cameras for job-site security and remote monitoring
Time-lapse camera manufacturers choose the Peltec 619 daily/weekly timer for user-programmable scheduling of construction camera activity. Universal supply voltage options make this versatile 24-hour 7-day timer the reliable choice for everything from urban towers, to road and bridge projects, to remote locations where standard utility power is not available.
Control lighting as well as camera intervals
This 24/7 programmable digital timer is also used by lighting manufacturers to provide similar control and coordination with on-site cameras, for security, job progress, insurance and marketing purposes. Set lights and cameras to match work schedules, assess traffic patterns, track employee activity or investigate off-hours events.
AC, DC, and Solar-Powered Timers
Supply voltages for the Peltec 619 range from 12–250VAC, and 12–24 VDC. Logging, mining, and remote agricultural operations are often off the grid. Large-scale municipal projects, as well as high-rise construction and off-shore projects can involve hard-to-reach camera installations. In these situations, solar power assemblies deliver steady DC juice via on-board panel and solar-charged battery backup.
Reliable, Resettable and Accurate
The Peltec 619 Daily/Weekly Digital Timer comes with 15 program periods built in: full week, 7 individual days, and 7 multi-day combinations. Choose, set and review time intervals with LCD display. A standard lithium button battery keeps accurate time.
Peltec 619 Daily/Weekly Digital Timer
Program full week, individual days or multiple-day settings; random and temporary overrides available.
KEY FEATURES

User-programmable 24-hour, 7-day digital timer
15 different program periods built in: Full week, 7 individual days and 7 multiple-day combinations
Set automatic On/Off cycles; use manual override when needed
Real-time 24/7 accuracy to the minute
12-hour am/pm clock format
Set up to 8 On/Off cycles per day
On board LED power indicator
LCD display shows ON and OFF status
Memory backup with onboard battery
20 Amp resistive switching capability, maximum
Choice of 6 voltages: 120VAC, 230VAC, 24VAC/VDC, 12VAC/VDC
Clear protective cover included
UL and CE approvals, RoHS compliant
KEY SPECS

Dimensions  inches 2 3/8″H x 2 3/8″W x 1 3/8″D
millimeters 60mmH x 60mmW x 37mmD
Supply voltage ranges  100–130VAC, 200–250VAC, 24VAC/VDC, 12VAC/VDC
Operating accuracy  ±1 second/day at 20°C
Operating temperature   -10°C to +55°C
Standards  UL, CE, RoHS, CUR E166259
---
Companies worldwide control, test and manage electricity in systems, machines and devices with products from Pelco Component Technologies.
Our customers rely on Pelco to make things happen at the right time.
We call it Putting Power to Work.
Visit Pelco Component Technologies