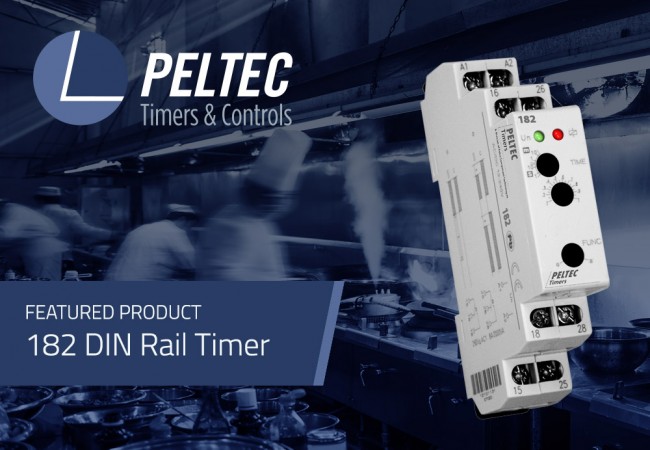 Featured Product: Peltec 182 Timer
Putting Power to Work with the Peltec 182 True Off Delay Timer:
FThe Pelco 182 timer is applied in various commercial and industrial kitchen applications. In a busy and hot environment under hood ventilation offers a consistent air turn over to provide a safe working environment, the Peltec 182 timer is interictal in maintaining the proper sequence. Likewise, a reliable fire suppression system is a life saving requirement. In the event of a power failure the Pelco 182 timer will keep the system active for a set period of time, thus allowing the system to do its job.
With True Off Delay Timers once the application of input voltage is applied, the output is energized. When the input voltage is removed, the time delay begins. At the end of this time delay, the output is de-energized. Input voltage must be applied for a minimum of 0.1 seconds to assure proper operation. Any application of the input voltage during the time delay will prompt a reset. No external trigger is required.
TRUE OFF DELAY/DELAY ON MAKE TIMER FEATURES:
True Off Delay/Delay On Make Timer
2 Timing modes adjustable via rotary switch
Relay output form: DPDT – 8 Amps
Output indicator: Red LED
Input indicator: Green LED
DIN rail mounting
0.1 second–10 minutes time range
UL and CE approvals, RoHS compliant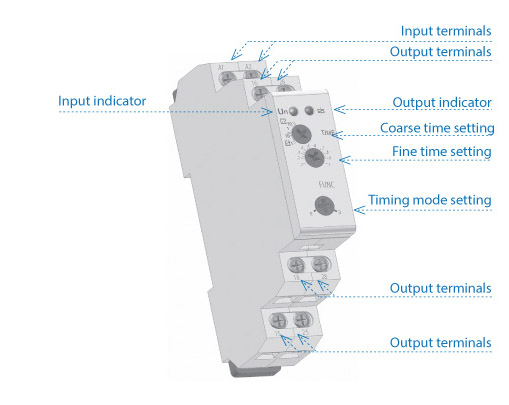 TIMING MODES:
a – True Off Delay :: Application of the supply voltage energizes the output relay. The timing period begins upon removal of the supply voltage. At the conclusion of the timing period, the output relay is de-energized. Reapplication of input voltage before the delay expires resets the time period.
e – Delay on Make :: Application of power to the timer input voltage terminals starts the time delay cycle. At the end of the preset delay, the output transfers until it is reset by interrupting the input voltage.
Click here to learn more about Peltec Relay and Digital Timers. 
Click here for the Peltec 182 datasheet. 
The divisions of Pelco Component Technologies
Across the US and around the world, OEMs, engineers and product designers choose components from Pelco Component Technologies to control electricity and make things happen at the right time. We call it Putting Power to Work.
Sign up for Peltec Email
Call 800-321-9539
Send us an email
Pelco website