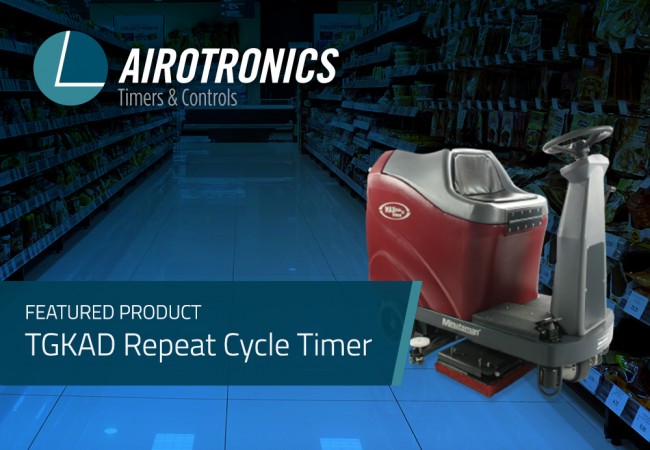 Featured Product: TGKAD Repeat Cycle Timer
Putting Power to Work with the TGKAD Repeat Cycle Timer in Commercial Floor Cleaners.
For motors used to shake filters, check out the Airotronics Repeat Cycle timers. The motor is turned on when an input voltage is applied and the "On" time begins. At the end of the "On" time delay, the load is de-energized and the "Off" time delay begins and turns off the motor.  The "On" and "Off" times set by the user will determine the length of time the filter is shaken..
TGKAD series Cube Relay Repeat Cycle (Dual Adjustable) On/Off timers are a unique combination of solid state timing circuitry with a relay output in a compact cube configuration.
The time delay for both the "On" cycle and the "Off" cycle can be individually adjusted.
These timers offer the many advantages of a relay output and provide the same functional performance as plug-in relay timers, but at a significant cost savings.

CUBE RELAY, 10-30 AMPS, DUAL ADJUSTABLE: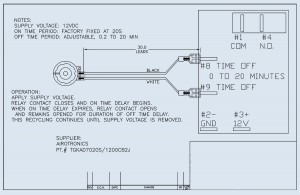 High current-carrying capacity up to 30 amps
100% Load isolation
No leakage in N.O. position
No heat sinking required
Available in any time delay periods required
Digital CMOS timing
Transient protected
No minimum load required
TIMING MODE:
Application of input voltage to the timer starts the "On" time and energizes the relay
At the end of the "On" time delay, the relay is de-energized, and the "Off" time delay starts.
At the end of the "Off" time delay, the load is again energized, the timer returns to the "On" time delay, and the cycling continues as long as input voltage is applied.
Removal of the input voltage resets the timer.
Click here to learn more about Airotronics Repeat Cycle timers. 
Click here for the TGKAD datasheet. 
The divisions of Pelco Component Technologies
Across the US and around the world, OEMs, engineers and product designers choose components from Pelco Component Technologies to control electricity and make things happen at the right time. We call it Putting Power to Work.
Sign up for Airotronics Email
Call 800-321-9539
Send us an email
Pelco website