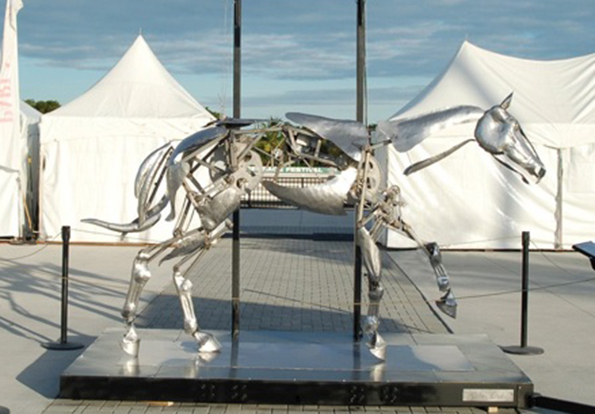 Sculptor brings steel to life with passion, creativity and the single shot timer function of the Airotronics MC363
What puts the giddy-up in Adrian Landon's Mechanical Horse? An MC363 Multifunction timer from Airotronics.
Brooklyn artist Landon combines his lifelong passion for horses, focused creativity and mastery of stainless steel in a remarkable new sculpture called the Mechanical Horse on view at Winter Equestrian Festival in Wellington, Florida from January to April, 2015.
Here are Landon's words on this galloping feat:
Almost two years in the making, the Mechanical Horse was single-handedly designed, machined and sculpted by me, at home and in my metal shop in Brooklyn, NY.
With over 100 bearings, custom laser-cut sprockets, 30 feet of chain, 23 articulating joints and one small electric motor, this has been by far my most challenging project yet, combining my in-depth knowledge and passion for horses, my childhood mechanical experience with Legos, and most of all, my love for creation.
What makes it go? The MC363 is wired to an external momentary initiate switch. Using the MC363′s programmable dip switches, Adrian selected the single shot timer function. When a visitor pushes the button, the initiate triggers the timer, sending 12VDC to a brushless motor and bringing the horse to life. Once the selected time period ends, the horse is at rest until the next initiate of the single shot function.
Single Shot Timing Mode
Input voltage is applied continuously. Upon closure of the initiate switch the load is energized and the time delay is started. At the end of the time delay the load is de‑energized and the timer is ready for another cycle. Maintained closure of the initiate switch will not affect the time delay period.
Production managers, product designers, mechanical engineers and artists choose Airotronics timers and controls to bring their ideas to life, too. To ensure things happen at the right time, they're Putting Power to Work with Pelco Component Technologies.
Download MC363 Multifunction Timer pdf
See a slideshow on the making of the Horse
Visit Adrian Landon's homepage