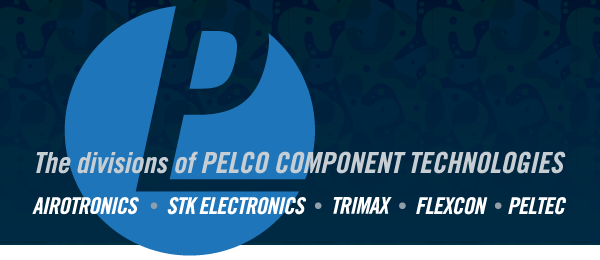 Welcome to Pelco Component Technologies
With a history of quality and innovation and a reputation for unbeatable service, Pelco Component Technologies welcomes all customers from our five core brand divisions: Airotronics, Trimax, Peltec, STK Electronics and Flexcon.
Recent and ongoing brand development unites Airotronics Timers and Controls, Trimax Circuit Protectors, Peltec Timers and Controls, STK Electronics Film Capacitors and Flexcon Flexible Test Connectors within the Pelco master brand. It's not a change in ownership or direction, but a firm commitment to quality, service, value and trust, across the board, throughout our extensive component lines.
Customers should expect continued success with their chosen components, ongoing relationships with their reps, and streamlined, updated communications featuring the fresh look of Pelco Component Technologies. Whichever brand you're used to, you rely on Pelco products to make things happen at the right time. We call it Putting Power to Work.
Check out the new Pelco website for easy access to all divisions.
Current customer? Why not spec an additional Pelco brand for your next project? Get info here or call 855-227-3526.
Newshound? Subscribe to Pelco email. New products, customer projects, industry trends. Short and to the point!