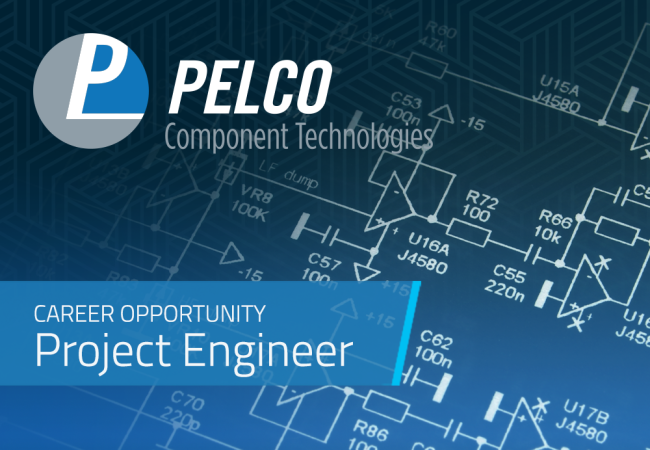 Join Our Team: Project Engineer
Pelco Component Technologies is Putting Power To Work with versatile and reliable timers and controls in transportation and industry, agriculture and appliances, manufacturing and services across North America and around the world.
We have an immediate opening for a Project Engineer to join our team.  The Project Engineer will report directly to the Director of Engineering.
Email your resume to HR@pelcocaz.com.
JOB DESCRIPTION: 
Design products to meet customer specific applications.
As a member of the Engineering team, work with the Marketing department to develop and introduce new ideas for advanced products.
Provide Customer, Sales and Production technical support for new and existing Pelco Component Technologies products.
RESPONSIBILITIES:
Generates preliminary specifications for new applications based on customer input.
Generate schematics and prepare production documentation (BOM, customer spec. drawing, label requirements, etc…).
Generate guidelines for production test procedures and test equipment to ensure complete product evaluation.
Provides interface with customers (post-production) concerning technical aspects of the product (to include travel as required).
Utilizes design methods that encourage product standardization to improve product quality and lower cost.
Demonstrate flexibility in work hours, assignments and scope of work in order to meet the objectives of the Engineering department.
Demonstrate ability to interact with people in a respectful and efficient manner to maximize effectiveness and time management.
KNOWLEDGE & SKILLS:
Hands on circuit design from schematic entry through lab testing and experience with CAD schematic capture / board layout.
Familiarity with DFM (Design for Manufacturing) and FMEA (Failure Mode and Effect Analysis) concepts.
Experience with UL, CSA, CE certification and approval process helpful.
CREDENTIALS /EXPERIENCE:
A four-year Electrical / Electronics Engineering degree with emphasis in analog and digital controls design, and / or
A minimum of 4 years practical experience with design, test and product development in Industrial Automation or related field.